Preservation Houston Hosts OPR Copy Run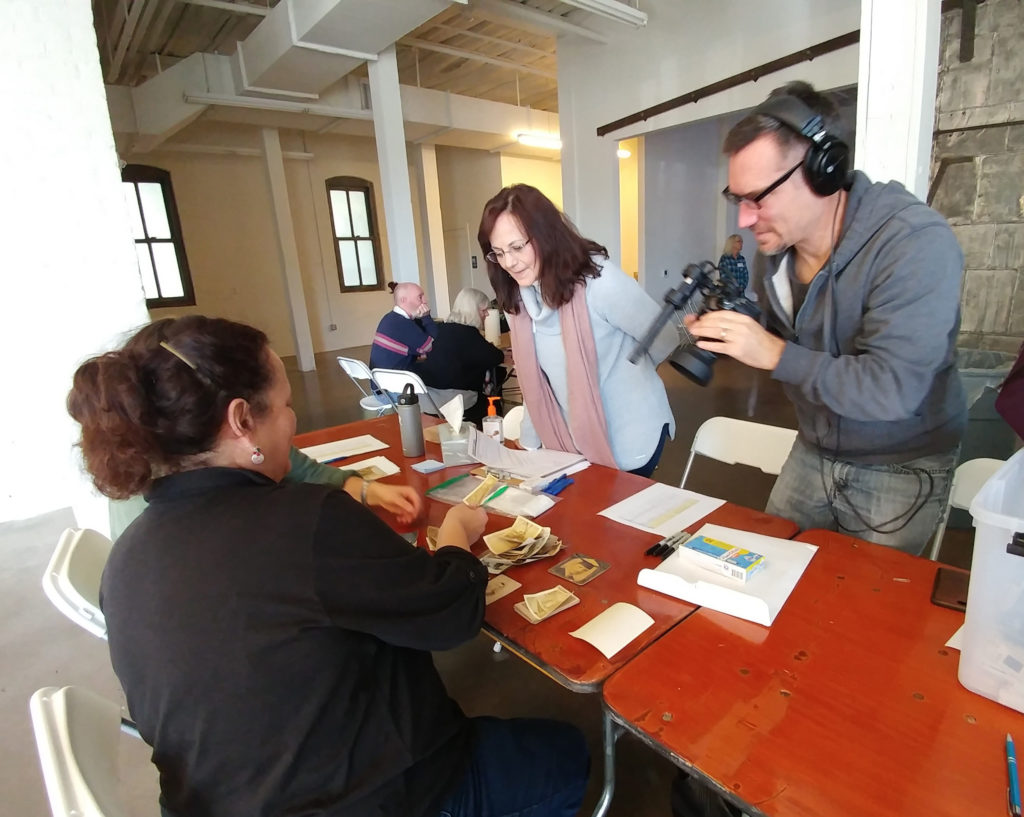 Beverly DeJarnett sorts through her damaged photos as volunteer Kathy Washburn looks on. Matthew Nothelfer, videographer for Path 88 Productions, covering the copy run as part of a documentary on scrapbooking and the connection photos hold. Photo: Margie Hayes
Back in September I received an email from David Bush, Executive Director of Preservation Houston, wanting to know if we coordinate with local nonprofits to help save family photos. I was thrilled and thankful that Brian Davis at the Louisiana Trust for Historic Preservation had recommended us. OPR was fortunate to have worked with Brian when he was Director of Preservation Services at the Galveston Historical Foundation. This was following Hurricane Ike in 2008.
The Houston copy run was organized by Preservation Houston and its next-generation member group, Pier & Beam. P&B folks did a lot of the planning and provided many of the volunteers through the weekend. Besides David, Jim Parsons, Programs Director of Preservation Houston was a big help in getting things together. Gabriella (Gaby) Nissen, was in charge of getting the photographers all on one page as to OPR's requirements. Gaby was no stranger as she helped us organize a copy run to Houston back in 2015. Last but not least, thanks to all the volunteers who showed up to make this copy run a success.
Most OPR's copy runs have been held at a local library. This time it was held at The Heights Clocktower courtesy of owner Nonya and Jonathan Grenader and their son Sam–all Preservation Houston members. Originally built in 1894 as a mattress factory and later housed a textile mill. Now the building houses live/work lofts, offices and studios, retail spaces, and a bakery/cafe. We were able to work in a vacant area with many different rooms. This was especially great to have a separate room for the photographer's copy stands. All three of the copy stands were purchased by Houston Preservation and worked out great!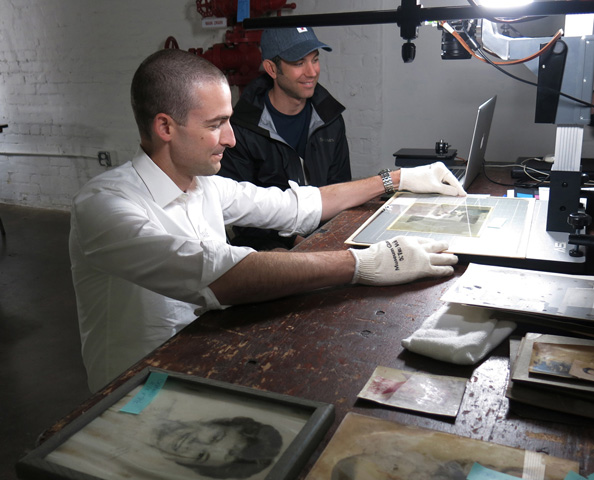 Dave Morris, front, and Ben Davis at the copy stand. A lot of the photos required a non-reflective glass on top to hold them down and also to limit the reflection. Some photos were still in their frames and stuck to the glass. All three copy stands were tethered to laptops which allowed the photographer to recheck their work. Later Gaby would upload all of the files to OPR and from there the photos would be uploaded to a PhotoShelter gallery for volunteers to restore.
With three copy stands going at one time, plus having enough volunteers made things run very smoothly. Another help was having people set up by appointments. This was done one other time at the New York copy run after Hurricane Sandy. There we had one copy stand for appointments and the others were for drop ins.
Photo: Gabriella Nissen (inc homepage)
Click Here for more photos of the Houston Run.