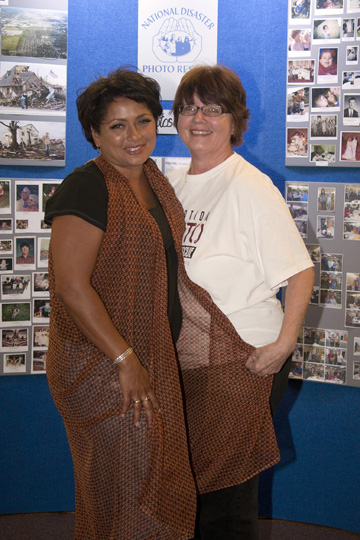 Operation Photo Rescue (OPR) was contacted by Headline News (HLN) to see if we would be interested in an interview with Robin Meade about our efforts in Joplin. They also wanted to interview someone we had helped and to see the before/after of their restored photos. Tied into our interview would be Pastor Thad Beeler of the First Baptist Church in Carthage, MO. The members of his church and Angela Walters with her Facebook page for Lost Photo of Joplin were responsible for saving and reuniting photos that were found after the tornado.
I contacted Nanda Sparks and she was happy to be interviewed. She also happened to be the first person whose photos we restored and sent home. This was the first time that I had met Nanda and she couldn't say enough how much having her photos restored meant. She found out about OPR by contacting Lost Photos of Joplin to find out if there was someone she could pay to restore her photos and they told her about us and our free service.
Of all the copy runs OPR has done in the past, this one was different because the force of the tornado and how photos were displaced. Thad Beeler and members of his church spent hours, days, and months cleaning, scanning, numbering, and filing in boxes the lost photos. At first hundreds of photos were listed on Lost Photos of Joplin's Facebook page. Because of the sheer numbers it was decided to make copies of the photos and place them in notebooks for the public to view.
Later Thad and a group of volunteers would start a non-profit called National Disaster Photo Rescue (NDPR) and while their name is similar to ours, their mission is different. They collect, clean, house, label, and search for the owners of the displaced photos. From Joplin they have saved over 30,000 photos and returned over 8,000 to their owners. OPR is in a partnership with NDPR and will continue our efforts to help restore photos from Joplin.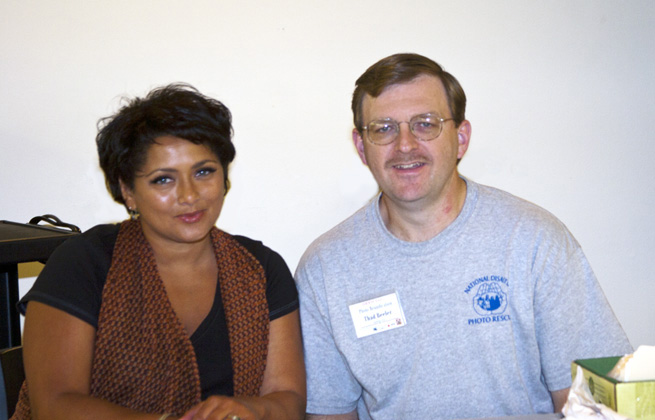 On that Tuesday as I joined Thad's group and had a table set up with OPR brochures and examples of before/after photos from Joplin that we had restore—the reaction of people filing by was disbelief! They could not believe that it was possible to restore the damaged photos they were seeing to the after restored photos. Even Thad's volunteers were blown away with the results. I came away happy that day to know how much our efforts were appreciated and to have the chance to meet some wonderful people.
Margie Hayes.