Pensacola Copy Run a Success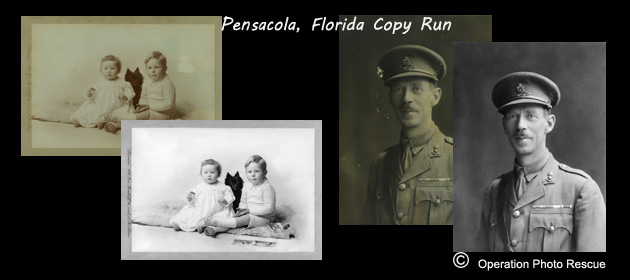 Thanks to Kristen Regan and Krist Lien and students from the Pensacola State College for their help with OPR's copy run in Pensacola, FL. We continue to have photos coming in through the college and also one family that had their damaged photos scanned by FedEx and sent to us on a CD.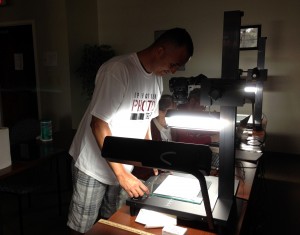 Omar Forty, photography student at Pensacola State College, getting the chance to run the copy stand with Mike and Pat Sluder.  Other students helping were: Diane Rutledge, Paula Turner, Erin Amis, and adjunct teacher Jay Flynn.
Thanks goes out to Amy Stamey at the Covenant Hospice for making our run successful. Last but not least was the inner team: Jan Neil, Mike and Pat Sluder. Because of the cost of shipping their two copy stands; Mike and Pat drove down from Michigan and manage to hit every road construction on the way. Hopefully in the near future we will find a way to ship copy stands or have ones on location.
The rewarding part about participating in an OPR copy run is getting to meet the people who bring in their damaged photos and hearing their stories.  The majority of photos brought in could be restored, but a small percentage were too far gone. At the top you will see two before/after photos that were brought in by Robert Henley. Some of the photos dated back to the 1900's and the stories about them made them come alive.  Jan took a short video of him discussing his photos. Click here for the YouTube video. In that video is reporter, Sandra Averhart, WUWF Public Radio, who covered us both days and also did a very nice piece before our scheduled trip. Here on their website  is the article and phone conversation I had with her. We greatly appreciated Sandra's efforts to get the word out as well as all the other media outlets that covered our coming.
Last but not least I would like to thank everyone who donated money to make this copy run possible. Without your donation we could not have gone to Pensacola and you have the gratitude of all those who came in those two days. Over and over again I heard comments of how they couldn't believe that we offered this kind of service and they wanted us to pass along their thanks to our volunteers. I also heard from a gentleman whose condo had been flooded and he had been bilked out of thousands by a dishonest contractor. He thought it was wonderful that there were honest people who wanted to help with no gain in mind. I also heard from a woman in the military after I returned home wanting to know if we could help her. I said we could if she could get her photos scanned and mailed to us. Some of her photos had been hit by Hurricane Ivan and she couldn't afford to have them restored, so she scanned the damaged ones before the saltwater destroyed them. She kept them in the hope that one day she might get them restored. It is stories like these that makes me proud of Operation Photo Rescue and our volunteers.
Margie Hayes