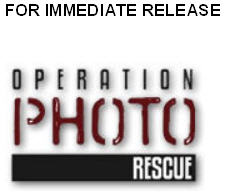 Operation Photo Rescue to Send Volunteer Photo Restoration Team to Galveston
Fredericksburg, VA – April 8, 2009 –
Operation Photo Rescue (OPR), a global not-for-profit organization, is sending a team of volunteers to Galveston, Texas to gather family photos damaged during Hurricane Ike.
Hosted by the Galveston Historical Foundation, the OPR team will set up operations at the Michel B. Menard House at 1605 33rd St, Galveston,
TX from Friday, May 1, 2009 through Sunday, May 3, 2009. Hours of operation:
· Friday and Saturday: 10 a.m. to 4 p.m.
· Sunday: 10 a.m. to 1 p.m.
Since OPR was founded in the wake of Hurricane Katrina in January 2006, the organization has grown into a network of nearly 2,000 volunteers from across the globe. Volunteers come from all 50 states and from 47 other countries. OPR volunteers have restored and returned several thousand damaged photos to date for victims of hurricanes, floods and wildfires.
"We've had an unbelievable outpouring of support from volunteers who have joined our cause from all over the world," Ellis said. "What started out as two people trying to make a small difference has turned into a global effort that has helped more people than we ever thought possible."
When disaster strikes, people often try desperately to retrieve their family photos, Ellis said.
"Insurance doesn't replace memories," he said, "but we do."
For additional information, please contact:
Dave Ellis, Operation Photo Rescue Founder
5204 McManus Drive Fredericksburg, VA 22407
Phone: 540-834-8050 (c)
email: dellis@operationphotorescue.org
website: https://www.operationphotorescue.org